The fifth episode of Lucha Underground's second season didn't quite live up to the lofty expectations built from the first four episodes, but it did feature some solid wrestling and interesting plot development.
Jack Evans continues to get over as one of the better heels in the company. His in-ring mic work is as good as anyone in LU and he really knows how to bring it in the ring. It's interesting to see PJ Black (someone who just debuted a few weeks ago) so quickly slotted into the position of the secondary character in Evans and Drago's feud. However, they did this a lot last year with guys like The Mack, who eventually broke out in a big way. I'll be interested to see where these three men go from here. Black probably needs his own feud, while Drago and Evans need a longer match to really get this story revved up.
The King Cuerno vs. Killshot match was fairly forgettable. Both guys performed well in the ring, as usual, but the story wasn't memorable. That should pick up next week with Cuerno defending his Gift of the Gods belt against Fenix. The Texano vs. Chavo and the Crew match was also pretty bland. Having Chavo cheat to win is predictable, though effective. This feud isn't bad, it's just extremely tame in comparison to most of the others on the show. We know Texano can bring it because of his time in AAA, but he hasn't really shown that same spark in his LU run.
The main event between Cage and Johnny Mundo was a high quality affair that saw some good back-and-forth between two of LU's best performers. I didn't love the finish because I would've liked to see Cage go over clean and begin his ascension to the top of the card, but the inevitable rematch could take this one to the next level. We haven't seen anything too crazy in the ring through the first five episodes and both Mundo and Cage can do some incredible stuff. Thus, I'm looking for a big spot-fest when these two meet again, with Cage going over and moving on to challenge either Prince Puma or Mil Muertes.
I would be remiss to not mention all the crazy vignette work going on in this episode. Catrina showing off her mystical death powers was a treat, but Dario Cueto's monologue that told the tale of how his brother killed their mother was the obvious highlight. We're obviously leading into an epic showdown between Cueto's brother and Mil Muertes, so I love when they do things like this to build up the younger Cueto without actually showing him. The second he hits the ring, he's going to be the biggest monster heel in the company and I can't wait.
Anyways, on to the rankings.
10) Texano (2-1)
As mentioned above, I'm not super high on Texano right now. He's been pretty bland thus far in his run with LU and Chavo isn't a compelling opponent. That said, I'm still open to their feud taking us places and believe that Texano has "it" due to his AAA run. I'm slotting him here because I believe he has a big part in this season and he almost won a three-man gauntlet challenge. Think of this as me giving him the chance to really impress me.
9) The Unlikely Trio (Ivelisse: 2-1. Son of Havoc and Angelico: 1-1)
The Trio didn't get a match this week, but they are set up to challenge the Disciples of Death for the Trios Titles within the next few weeks. I'm thinking we're slowly building to this season's "Aztec Warfare" moment and somewhere around the 10th episode mark we'll have a mega-card that includes: The Unlikley Trio vs. The Disciples of Death, Prince Puma vs. Pentagon Jr., Cage vs. Johnny Mundo, and Dario Cueto's brother vs. Mil Muertes.
8) Jack Evans (2-0)
Evans is so great at being that slimy, ultra-hateable heel that it's almost not fair. His match with PJ Black didn't exactly tear the roof off , but it did move forward the Evans vs. Drago storyline while keeping those two away from each other. That's effective booking that makes the crowd really pine for Drago's inevitable beatdown of Evans.
7) Fenix (1-1)
Next week will be Fenix's chance to shine, as he looks to get back his Gift of the Gods title from Cuerno. Not much to say about Fenix this week, as he was barely in the show. Episode six should tell us a lot about where both Fenix and Cuerno are going this season.
6) King Cuerno (2-1)
Cuerno continues to be one of the more impressive performers during the early parts of the season. Outside of Prince Puma and Pentagon Jr., I'm not sure if anyone has been featured more often. You have to assume that means they'll be going back to him often throughout the season. His feud with Fenix is second best going (just behind Puma and Pentagon), and his collaboration with Catrina makes him a real power player. I'm hoping for big things from Cuerno over the next few months.
5) Mil Muertes (1-0)
Still has a broken arm. Still in charge of the promotion. Still has Catrina and her rock. Still the Champion. Moving on.
4) Cage (1-1)
The Machine they call Cage may have picked up a devastating (and controversial) loss to Johnny Mundo this past week, but I don't think it hurts him too much. If anything, it gives him a main event-caliber feud to continue building his skills. Of the guys who worked in the upper mid-card last season, I think Cage has the most potential as a main event player. He obviously has the look, and he can also do some incredible things in the ring. Really, the only thing thing he currently lacks in a great promo. That said, I would be surprised if Cage isn't firmly in the main event picture at Ultima Lucha 2.
3) Johnny Mundo (2-0)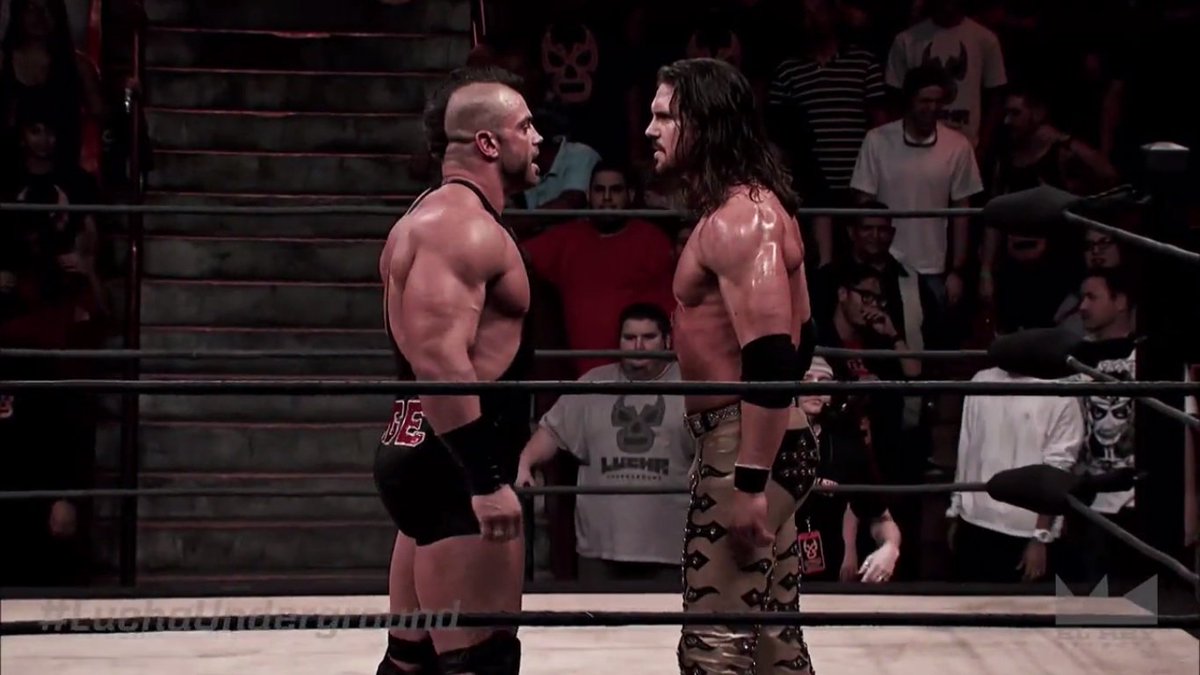 Mundo grabbed a cheap win against Cage, which, as mentioned, likely signals a continuation of their feud. As someone who likes Mundo, but doesn't love him in the title picture, I think this is something I can live with. He's going to bring in casual eyeballs, so putting him in a program with a young up-and-comer like Cage is the best use of his talents.
2) Pentagon Jr. (1-1)
Pentagon had a pretty quiet episode five, only appearing in a Catrina vignette to ask for a rematch with Puma. I wonder if booking that match for next week is a good idea, given that Fenix and King Cuerno will also be having a ladder match for the Gift of the Gods. Could it be too much for one show? Both of those matches could use about 15 minutes to really get going and LU usually only features one longer match per episode. Here's hoping they can pull it off.
1) Prince Puma (2-0)
Puma stays on top as the de facto #1 contender for Mil Muertes' title. Of course, that's not really where he's being pushed. If any two competitors are past needing a title to fight over, it's Puma and Pentagon. I'm hopeful that they keep the strap away from these two and just let their blood feud exist on its own. When both guys are this good, you don't need a title. Just let Puma and Pentagon destroy each other every other week and I'll be more than happy.