The episode of Lucha Underground is in the book and boy was it a doozy. There's quite to unpack here, with so many developments happening in quick succession (those last five minutes, though). I wanted to shy away from a straight recap episode, so this column is going to be a little bit of a hybrid between power rankings and analysis. Enjoy!
10) Catrina
Catrina probably ranks higher if the episode ends a minute or two earlier. Unfortunately, episode one ended with Pentagon Jr. breaking Mil Muertes arm. So, while he's still champion, he might be out for a few weeks, at the very least. That said, Catrina is seemingly head booker now, so it's not like Muertes is going to drop the title. Also, Muertes and Catrina have some supernatural powers, so maybe his arm isn't broken at all? I'm not sure, but that's the best part of this episode. We're left with more questions than answers and all of them are intriguing plot points for the rest of the season.
9) Dario Cueto
So, El Jefe is apparently running a brand-new fighting pit that puts unsuspecting strangers against his insane brother Matanza. I guess? I'm not sure what exactly is happening with Cueto; however, I can't wait to see how he plans to get his temple back. I have a feeling it's going to be some sort of fight between Cueto's champion and Catrina's, but I don't know how we get there. That said, I cannot wait to see Cueto back on top as the best authority figure in the business.
8) Angelico
Angelico had a pretty solid showing against Son of Havoc and Ivelisse in the match for the #1 Contender spot. He did eat the pin, which leads me to believe that LU creative wants to protect Son of Havoc for a potential future Singles run. However, that could just be my WWE cynic talking, as LU has shown an ability to bring any competitor back from just about any loss. The next few weeks will be very interesting to watch and see if the Unlikely Trio stays together. Angelico and Son of Havoc have real Singles potential, I just don't know if there's an open spot for them in that crowded scene.
7) Son of Havoc
Son of Havoc got the benefit of not being pinned by Ivelisse, which makes him look stronger than Angelico as a competitor. Are they priming him for a Singles run? He certainly has the bulk of the Believers behind him. But, he and the Unlikely Trio were one of the highlights of season one and it would be very bitter-sweet to see them broken up. I don't know what I want, but I know that Lucha Underground will deliver.
6) Fenix
Fenix should maybe be slotted a little lower than this. After all, he lost his Gift of the Gods title to King Cuerno, but you have to assume that he'll be given an opportunity to bring it back. Plus, that vignette between Cuerno and Catrina makes you think that there's a bigger on-going story here that Fenix will be a part of. From the moment I first saw him compete, I've thought Fenix had Rey Mysterio-like potential here in the States. So, it's great to see him seemingly in the middle of a main event feud to start season two.
5) Prince Puma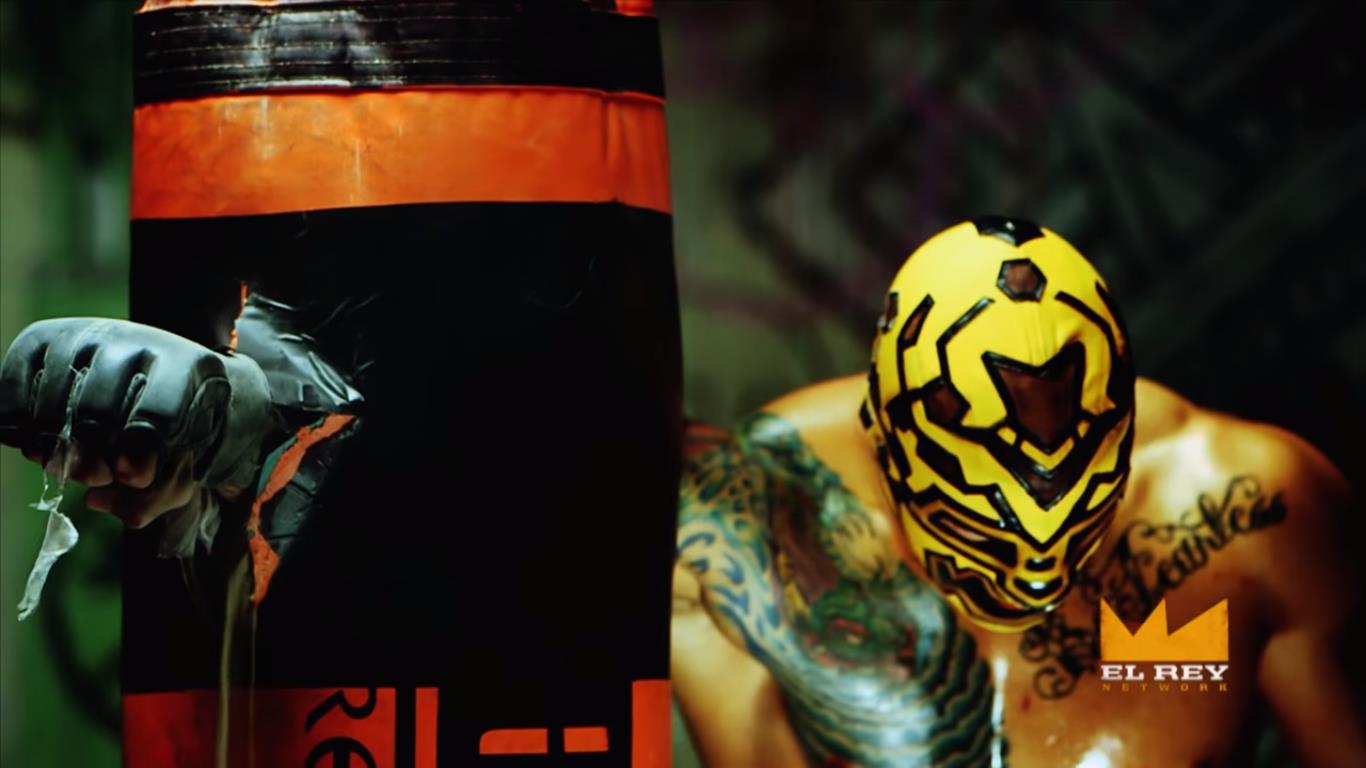 Puma was barely in this episode. Only running in to save Ivelisse from Mil Muertes after their match. Even without a single second of character development, it was great seeing Puma back in the ring. It wouldn't have felt right if season one's break-out star wasn't in season two's first episode and, for a second, I thought that might be the case. Here's hoping his involvement only grows next Wednesday.
4) Mil Muertes
Coming into season two, Mil Muertes was the most feared man in the company, the reigning champion, and apparently the new owner of the Temple. And his match with Ivelisse was a great beatdown that nearly ended in a mauling of Ivelisse. However, she was saved by Prince Puma and, immediately after, Pentagon Jr. broke Muertes' arm. What does this do for Mil and Catrina moving forward? Does her rock have healing powers? Will he drop the title now that he's weakened? I'm very interested to see how this all plays out.
3) Ivelisse
I have to give it to Ivelisse. I did not expect her to beat out her trios partners in that first match and, when she did, my interest went down quite a bit for the main event. However, she really brought it and now I'm completely bought in on her. She looked like a legitimate competitor tonight and I wouldn't be surprised to see her in program against someone like Sexy Star sometime in the middle of the season. She's really improved from her time on Tough Enough.
2) King Cuerno
I love King Cuerno. I love his look. I love his gimmick. I especially love his backstage gear. So consider me a very happy man to see him take down Fenix for the Gift of the Gods championship and seemingly enter into a partnership with the most powerful person n the promotion. It was a great night for Cuerno Nation and I'm hopeful that many more will follow.
1) Pentagon Jr.
Cero Meida sure knows how to make an impact, doesn't he? In maybe 30 seconds of TV time, Pentagon Jr. made the biggest move of the season thus far in breaking the champion's arm; setting the stage for a potentially devastating clash down the line that could rival Pentagon's match with Vampiro at Ultima Lucha I. Does Pentagon Jr. even care about the title? Or is this part of Vampiro's bigger plan? I just don't know. But I am incredibly excited. This season started with a big bang and, if history tells us anything, the story of Pentagon Jr. and Lucha Underground as a whole, is only going to get better.